About Qi Medicine acupuncture


Since 2006, Qi Medicine has conducted over 9,000 individual acupuncture treatments, working hard to help address clients health and wellness concerns.
Qi Medicine was founded by Dr. Sheena Vaughan (Registered Chinese medicine practitioner) in 2006 in Melbourne, Victoria. We have grown from a small practice to a large clinic over the years, treating just about every health issue one could think of along the way! Qi Medicine has now grown to help train several student practitioners and takes pride in passing down skills and knowledge to emerging Doctors of Chinese medicine. Qi Medicine should be your first choice for acupuncture in Moonee Ponds.
Our current key areas of focus are:
Skin, acne and healthy aging with cosmetic acupuncture
Women's health including digestive, hormonal and mood balancing
Healthy conception support with a focus on fertility and IVF
Healthy pregnancies and birth recovery
Any type of muscle or joint pain including back and neck pain, arthritis and injury recovery
Addressing mood issues including stress and anxiety
Hours of operation
Monday 9.30am – 3.30 pm
Tuesday 10am – 7.30pm
Wednesday 10am – 3.30pm
Thursday 10am- 7.30pm
Saturday 8.30am- 2.30pm  
Are we easy to get to?
The clinic is located at Suite 4, Level 1, 151 Pascoe Vale Rd, Moonee Ponds. (Please ensure you take the ground floor elevator to reach us or level one. For a detailed description of our building, please go to the contact us page.)
We provide acupuncture to the North Western suburbs of Melbourne and are close to Highpoint. Qi Medicine acupuncture is minutes away from Ascot Vale, Essendon, Avondale Heights, Maribyrnong, and Brunswick West. We also service many clients with acupuncture and Chinese medicine in Travancore, Flemington, Aberfeldie, Maidstone, and we are just 10 km from Melbourne city. 
Parking
There are a number of free two and three hour parking spots in the direct vicinity of the clinic.
Trasport
Qi Medicine acupuncture is a 12 minute walk from Moonee Ponds train station down Puckle Street, a 7 minute walk from the Moonee Ponds bus interchange, and directly on the number 508 Pascoe Vale Rd tram line. 
Bookings
Book online here or phone the clinic on (03) 8394 7665 to book your acupuncture treatment today.
Meet our team
Doctor Tash Nirmalarajah (Registered Chinese medicine practitioner, Reiki master)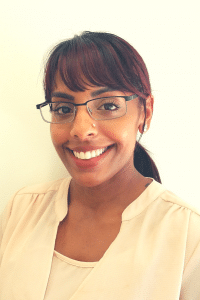 Dr. Tash is a warm and dedicated health professional, with expertise in several fields of complementary medicine. Having been in the wellness industry for over
15 years, Dr. Tash has a keen ability to unravel your complex health issues and provide you with simple but effective treatment options. Dr. Tash is a trained Swedish and traditional Chinese masseuse, beautician, Reiki master and Chinese medicine doctor, and will employ a number of different techniques to help you reach your wellness goals. 
Dr.Tash's key interests include
– Helping you achieve healthy skin with cosmetic acupuncture
Assisting couples through IVF treatments, fertility, and pregnancy
– Coaching individuals through difficult times and helping to manage stress, anxiety, and depression
– Helping women balance hormones, digestion, and mood
– Muscle and joint pain relief
– Treating children with laser acupuncture
Qualifications include:
Bachelor of Traditional Chinese Medicine, acupuncture (Endeavour College, Melbourne)
Level 3 Reiki master (Melbourne)
Associate Diploma in Beauty Therapy (Melbourne)
Accreditations:
Registered with the Australian health practitioners regulation agency (AHPRA)
Member of the Australian Acupuncturists and Chinese Medicine Association (AACMA)
Level 2 senior first aid
Registered with most Australian private health funds
Doctor Sheena Vaughan ([Registered] Chinese medicine practitioner)
"It is my professional mission to help people free themselves from pain, stress, and helplessness. I achieve this by listening, being honest and empowering people to take control."
Hi, I'm Sheena Vaughan, the principal therapist, and owner at Qi Medicine.
Congratulations on the decision to take action on your health; it is the most precious thing you own. You are probably here because you have a long-standing health issue you are ready to move past.
Whether it is niggling pain, digestive problems or ongoing skin complaints, you are ready to make some positive health changes. I can help provide gentle solutions to your health concerns with methods including acupuncture, traditional Chinese medicine, cupping therapy and cosmetic acupuncture. 
As a therapist, I have a special interest in treating women's health, hormonal and skin issues. This also ties into my passion for cosmetic acupuncture and facial rejuvenation, something I have been practicing for many years in the clinic. I also like to help people naturally overcome sciatica, lower back pain, shoulder and neck pain, plus other muscle and joint issues. Because we humans are a bit complex (our health being no exception), I place great importance on listening and recognising what is going on in your world. This will help you understand the causes of your health issues, from which we can formulate your individual treatment plan.
If there a few small tweaks or some big life changes you are seeking help with then I am always available to have a chat about how I could help you.
Qualifications include:
Bachelor of health science, acupuncture (ACNM, Melbourne)
Certificate IV Chinese remedial massage, tui na (ACNM, Melbourne)
Certificate in skin needling (White Lotus Anti-Ageing)
Diploma Thai foot massage (TMC, Thailand)
Certificate of constitutional facial rejuvenation acupuncture (Melbourne)
Completed advanced Master Richard Teh Fu Tan Balance method acupuncture course (Melbourne)
Accreditations:
Clinical Internship, Guanxi College of Traditional Chinese Medicine
Registered with the Australian health practitioners regulation agency (AHPRA)
Member of the Australian natural therapists Association (ANTA)
Level 2 senior first aid 
Registered with most Australian private health funds
Zoe Rankin (Administration officer and student practitioner)
Zoe has been a part of the Qi Medicine family since 2015 and is one of the friendly faces you will see regularly around the clinic. Zoe is currently studying a Bachelor of Health Science in Chinese medicine at SSNT in Melbourne, encompassing both acupuncture and Chinese herbal medicine practices.
Zoe is passionate about making a positive change in this world and has dedicated her time selflessly to others through volunteering in aged care and through the Strides supportive friends program. Upon graduating in her field Zoe looks forward to continuing helping disadvantaged children with Chinese medicine and acupuncture, plus volunteering abroad in India and South East Asia.
Zoe's other passions include gardening, cooking up creative recipes, and relaxing with her two dogs and cat.
Qualifications include:
(Completing) Bachelor of Health Science (Chinese Medicine) Southern School of Natural Therapies, Fitzroy (VIC) 
Bachelor of Health Sciences, Curtin University of Technology, Bentley (WA)                                                         
What sets Qi Medicine apart from other alternative health practices?
Booking times are available when you want them, including after office hours and Saturdays, at no extra charge.
On-the-spot private health fund rebates (HICAPS), EFTPOS and credit facilities are available.
Booking reminders to help you remember your appointment.
Qi Medicine is one of the few clinics in Melbourne which offer cosmetic acupuncture and skin needling by a qualified acupuncturist.
Qi Medicine cancellation policy
Although we dislike charging individuals for sessions they do not attend, a fee may apply for late notice cancellations to cover the therapist time and a lost session. 
More than 24 hours notice: no charge

Between 24-6 hours notice: $40 payable

Less than 6 hours or no show: Full cost of treatment payable
You may be reminded by SMS the time and date of your session however sometimes you may not receive the reminder due to unforeseen technical issues. Please know it is up to you to remember your next session time, and SMS reminders are simply a courtesy service.
Cancellations incurring a fee will have to be paid within 7 working days or at the next booking time to avoid debt collection. Payments can be paid by direct deposit or by credit card.
Please discuss your circumstance directly with your therapist if you encounter a situation where it becomes difficult to attend your session, so other arrangements may be made.
Health fund receipts are not applicable for cancellation fees. This policy applies to all bookings made at Qi Medicine.
Privacy policy
Qi Medicine Privacy Policy
This Privacy Policy was last modified on 14/02/2018. Qi Medicine operates www.qimedicine.com.au. This page informs you of our policies regarding the collection, use, and disclosure of Personal Information we receive from users of Qi Medicine. We use your Personal Information only for providing a service and improving Qi Medicine. By using our Site, you agree to the collection and use of information in accordance with this policy.
Information collection and use while using our site:
We may ask you to provide us with certain personally identifiable information that can be used to contact or identify you. Personally identifiable information may include but is not limited to your name and email.
Cookies:
Cookies are files with small amount of data, which may include an anonymous unique identifier. Cookies are sent to your browser from a website and stored on your computer's hard drive. Like many sites, we may use "cookies" to collect information. You can instruct your browser to refuse all cookies or to indicate when a cookie is being sent. However, if you do not accept cookies, you may not be able to use some portions of our site.
Security:
 The security of your Personal Information is important to us, but remember that no method of transmission over the Internet, or method of electronic storage, is 100% secure. While we strive to use commercially acceptable means to protect your personal Information, we cannot guarantee its absolute security. Changes to this Privacy Policy: Qi Medicine may update this Privacy Policy from time to time. We will notify you of any changes by posting the new Privacy Policy on the site. You are advised to review this Privacy Policy periodically for any changes. contact us if you have any questions about this Privacy.
Phone us(03) 8394 7665
Send us your enquiry