We think we can provide you with some of the best acupuncture in Melbourne- and we are confident you'll agree.

Since 2006, Qi Medicine has continually provided high-quality care from compassionate, experienced Chinese medicine doctors in our Melbourne acupuncture practice. 
What is acupuncture and how does it work?
Acupuncture is an ancient medicine developed over 5,000 years ago in China and continues to be widely used to address a variety of health and wellness issues.
Acupuncture is believed to work through balancing the body as a whole, not just focusing on one singular problem at a time.
This balancing is achieved through activating meridians (energy pathways) throughout the body. If this concept seems a little foreign to you don't worry, your body will naturally respond to the treatment even if your brain doesn't fully understand it yet!
The modern scientific explanation is that needling a point will stimulate the nervous system to release chemicals and hormones in the muscles, the spinal cord, and the brain. It is thought that this stimulation can change the experience of pain and trigger a natural healing response in the body tissues. Sessions can also have a calming effect, altering our state of mind and reducing stress.
We know you will feel wonderful when you attend your initial acupuncture session with us, with over 30 years combined experience, we believe our Chinese medicine team can provide you with the best acupuncture treatments in Melbourne.
fertility, IVF and pregnancy
Pregnancy and birth
Pelvic and back pain in pregnancy
Nausea, fatigue, and stress in pregnancy and birth preparation
Pre-labor induction preparation, including reducing stress and muscle relaxation
Pain, stress, and fatigue
Feeling stressed and under pressure
Needing help to overcome difficult stages in life
Hip and Sciatica pain (more about sciatica here)
Post-stroke shoulder pain
Headache and migraine pain
Cosmetic acupuncture and skin
Collagen induction therapy with dermal rolling and skin needling
Cosmetic acupuncture to help reduce stress and tension from facial muscles
Understanding hormonal imbalances leading to skin problems such as dryness, crepey skin, and acne.
Combining stress-busting, rejuvenating acupuncture and skin treatment into one.
In addition, acupuncture may be useful in the treatment of:
The pain and stress associated with irritable bowel syndrome and constipation
Does acupuncture hurt?
Our Chinese medicine practitioners specialise in taking first-time clients and will gently ease you through the whole process step by step (Meet our team here). We promise you will feel as comfortable as possible throughout your treatment, as we conduct your private consultation and treatment.
Your session is often not painful as very fine needles are used to stimulate the points. Acupuncture can actually be quite relaxing as the body is given a chance to stop, relax and heal itself. Other sensations felt during treatment include a slight tingling in the body, which is actually quite a pleasant experience. 
What can you expect in a treatment?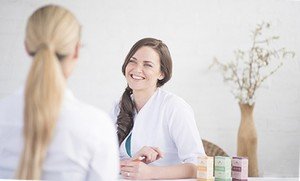 Your session will consist of a consultation and treatment, along with dietary and lifestyle advice and supplements and herbs if needed. Your Chinese medicine practitioner will ask you several questions about your current and past state of health, to gain a deep understanding of what is causing imbalances in your health.
Once your Chinese medicine doctor has a whole picture of your health they can individualise treatment to your specific needs. During your session, you will be able to fully relax in a private, comfortable room.
The space at Qi Medicine is designed to let you fall into a deep state of relaxation, without interruption from the outside world. You will be encouraged to close your eyes and rest, allowing the treatment to promote healing in the body.
You will often feel very relaxed after a session. It is best to drink plenty of water and do not undergo intense physical or mental activity for a few hours after your session, to let the internal healing continue after you leave the clinic.  
In accordance with the registration standards of the CMBA (Chinese Medicine Registration Board Australia) all registered Chinese Medicine practitioners are obliged to meet standards of safety and efficacy. Qi Medicine prides itself on following strict safety guidelines, ensuring your session is as safe and effective as possible. 
Acupuncture and Chinese medicine benefits
May provide ongoing symptomatic relief of some conditions without drugs
Promotes healing within your body without suppressing immunity
May be used by people of all ages
Does not result in ill side effects of some Western medications
Sessions can be relaxing and rejuvenating and can leave you feeling calm and happy
Rebates available in-house for private health insurance members
Acupuncture does not replace all medical treatments available, and your current healthcare provider should be consulted before you discontinue any other forms of treatment. Acupuncture will often complement Western medical treatments by encouraging healing and recovery. 
During your session you may be asked if you would like one of the following adjunct therapies to assist in your treatment:
Chinese herbal medicine
As a part of the Chinese medicine treatment, you may be prescribed a specific high-quality herbal formula to compliment your acupuncture treatment. All herbal medicines prescribed are in tablet form for convenience and adhere to the strict Australian therapeutic medicines guidelines.
Moxa therapy
Moxa (or moxibustion) is an important part of many Chinese medicine treatments. It is designed to warm up the skin and acupuncture channels for a specific therapeutic effect. Moxa is a dried herb or a charcoal-like substance, compressed into a stick or cone, and smoldered close to the skin. It is not intended to burn, only warm the area and often feels very pleasant.  
Cupping therapy
Cupping can be an effective tool for reducing back, neck and shoulder pain (read more about cupping here). It is generally not very painful but may leave some marks on the skin. These marks generally fade within one week. Cupping can easily be included in your treatment for a deeper release of tight muscles and tendons.
Advice about acupuncture's potential side effects and results
On the whole, acupuncture is considered gentle, but like with any form of therapeutic intervention, there may be some unwanted side effects. These include:
Bruising, some bleeding, and tenderness at the site of treatment 
Feeling tired after treatment
Some pain and redness at the insertion site 
Some swelling at the insertion point
It is important to discuss your treatment options with your therapist first if you have any:
Bleeding disorders
Contagious blood diseases
Easy bruising
Metal allergies
Acupuncture is not a miracle treatment and it is important to understand that like any form of therapeutic intervention results are never guaranteed. Please take the time to discuss your treatment options with your healthcare provider before undergoing treatment.
It is common to need to undergo a series of sessions to achieve therapeutic benefit with acupuncture, so please be mindful of this when considering treatment. 
Cost
See our pricing page here
Bookings
Book online here or phone the clinic on (03) 8589 6398 to book your acupuncture treatment today.
The clinic is located at Suite 4, Level 1, 151 Pascoe Vale Rd, Moonee Ponds. (Please ensure you take the ground floor elevator to reach us or level one.)
We provide acupuncture to the North Western suburbs of Melbourne and are close to Highpoint. Qi Medicine acupuncture is minutes away from Ascot Vale, Essendon, Avondale Heights, Maribyrnong, and Brunswick West. We also service many clients with acupuncture and Chinese medicine in Travancore, Flemington, Aberfeldie, Maidstone, and we are just 10 km from Melbourne city. 
By Sheena Vaughan. Follow Sheena on Google Plus and Facebook and stay up-to-date with all the latest news and deals with Qi Medicine.  
Phone us(03) 8589 6398
Send us your enquiry